Hi
While creating my Seizenn Band Weaving Pattern Editor, I exchanged a lot with Annie MacHale (https://aspinnerweaver.blogspot.com/) to try to offer a simple and efficient tool for weavers. As one of the first users, she did very interesting things with it. Her book of course – https://www.etsy.com/fr/listing/658320160/inkle-weaving-design-book-par-annie – but also some posts on her blog (for example https://aspinnerweaver.blogspot.com/2020/04/baltic-pickup-part-two.html).
She told me that when she presents this tool, new users are frequently confused by very basic tricks. I tried times ago to write some instructions on this blog but they are obviously not sufficient.
As I am working on an major update, Annie very kindly proposed to me few days ago to write basic instructions for beginners. And she improved it after presenting it to some of her friends.
She did a great job, on 4 pages you have enough instructions to let you understand how the tool works and it gives you keys to continue to explore it by themselves.
You can get it here : Instructions for using V1 Seizenn by Annie MacHale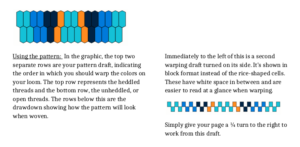 With her permission I will translate it into french. And adapt it and include it directly into the next version.
Jeff