Hi
Following some recent exchanges, it seems important to me to clarify certain points concerning the registration of patterns with Seizenn.
The different tools work in much the same way, what is explained here is as valid for realistic patterns, grid patterns, card weaving patterns or heddle.

Share a pattern
In the "Load, Save, Export" menu there is the button

  (or

depending on your choice). Until now the accompanying text was "save". Following a few misuse, I decided to rename it to "share" which better corresponds to its objective.
This button save your pattern on my personal database that I make available so that weavers can present their work, make it available to others. It's a service that I offer, but storage is not infinite and has a cost. If I want to keep service free, I can't afford to everyone to save every draft. And it appears that I unfortunately have to monitor a little what is saved.

From the list of your patterns you have the possibility of not displaying a pattern in the public list ('restrict') and of no longer displaying it in your list ('delete').

Attention, in all cases your model remains accessible via its short code. It is not deleted from the database. Only its visibility in the list page is modified. (If you need to do a specific action on one of your pattern, ask me.)

The patterns you saved remain yours. If not deleted, your name and recording date appear next to the thumbnail  

.
An attribution problem
Nothing prevents a user from opening one of your patterns (that's the goal of Seizenn !!!) and sharing it in turn (it's a misuse). In this case, the same pattern therefore appears twice in the list, with two different authors.
That's what happened when an undoubtedly well-meaning user recorded all the patterns (s)he liked. That is to say almost all of them. Not only does it take up space on the server for no benefit, but it can also give the impression that this user is appropriating the work of others. And ultimately discourage other weavers from sharing their work.
I had to email this user and remove the duplicate patterns.
I also added a confirmation screen before sharing to disambiguate: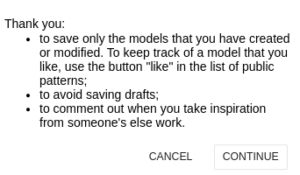 As there was obviously a real need that I hadn't thought of initially, I added a "like it" button

which allows you to build a list of the models you like.

This list is only saved on your computer, it has no impact on the server.
Local pattern saving
It can be particularly interesting to publish very close versions of the same pattern in order to discuss the preferences of other users, to gradually improve a pattern with several people via network sharing. When you look at Annie MacHale's work, the quality of a band can be tied to a very small detail (see for example http://aspinnerweaver.blogspot.com/2014/02/design-elements-take-good- design-and.html).
But when building a pickup-type model, it is not useful to use the button

at each stage of the work.
With the new version, the model you are working on is automatically saved in your browser. This is what makes it possible to have a function for undoing the last actions.
If you shut down your computer and then open Seizenn again with the same web-browser you should see your pattern.
No need to upload your draft before it's finished.
In some cases you may wish to avoid using the

button. For example when you are in a place without a network but want to save your work. Or you consider that you are taking too big a risk by hosting your work on my server (if you use Seizenn to write a book, don't forget to contact me please). In those cases, you can find your pattern description in the "load, save" menu on the left.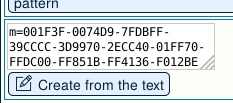 Copy the content of the textarea ("m=…") somewhere to keep track of your pattern. You can send it by mail etc. To load your pattern back, just paste the text in the textarea and click the button.
Other technical solutions would be possible with more work and if there is a clear need.
EDIT 04/01/2022
There is now a button to save your pattern on your computer.

The saved patterns appear at the bottom of the pattern page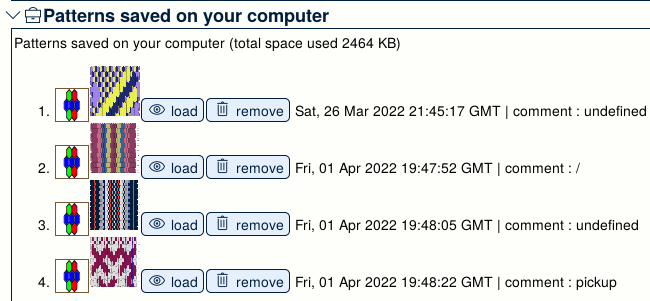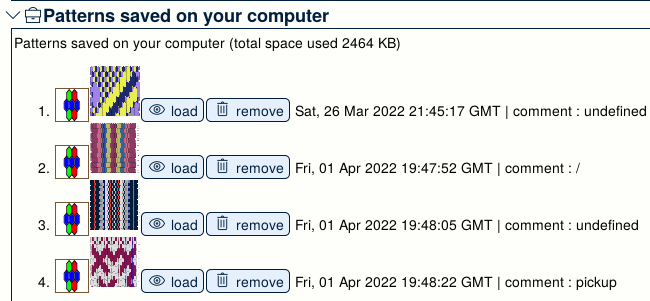 I hope these details will be useful to you.