Hi
For this new year I present to you some small improvements for Seizenn.
Lists of patterns
When you save a pattern, it is by default visible for everyone in the public list. It's now possible to make it private using the "restrict" button in you private list.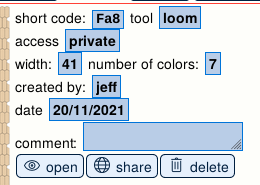 Loom colors
You can have colors in your «loom palette» that are not used in your pattern. Now those colors are bordered with brown like this :


Rigid heddle pattern
In loom editor you can load default pattern for some popular rigid heddle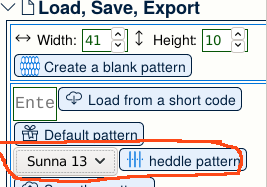 You then get

New tools
Seizenn was first designed for plain weave or baltik bands. I then added a grid tool. I recently wanted to explore some other weaving technics.
Now you have two new tools.

The first one to draw heddle loom patterns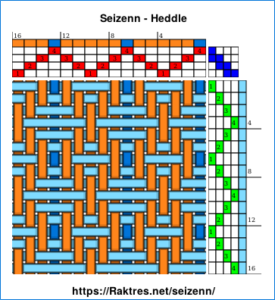 https://www.raktres.net/seizenn/#/heddle
A second one to draw tablet patterns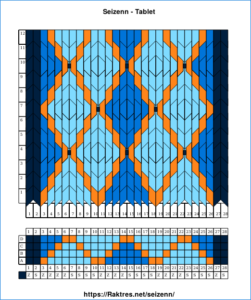 https://www.raktres.net/seizenn/#/tablet
Those tools are very simple, I mainly created them to undestand how those kinds of pattern work. They reuse main principles of seizenn, and I just added a few new things like right-click menu in tablet tool.
I could improve them if they would be useful for someone.
Jeff